Friends of the SMU Libraries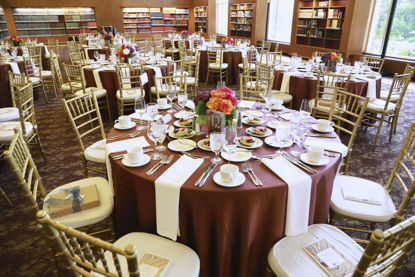 Saturday, October 23, 2021
6:00 pm
Fondren Centennial Reading Room, SMU campus
-
AN EVENING OF DINNER AND CONVERSATION
The Tables of Content dinner features round tables of engaging discussion with fascinating table hosts on a variety of topics. The event will include the presentation of the 11th Annual Literati Award to photographer Laura Wilson and a special commemoration of the 50th anniversary of the founding of Colophon/Friends of SMU Libraries.
-
Honorary Chair - Nancy Perot
-
Proceeds from this event benefit the annual Grants Program sponsored by the Friends of the SMU Libraries which supports the purchase of books, periodicals, electronic resources and other much-needed equipment and materials for all of the SMU libraries.
-
If you are unable to attend the event but would like to make a donation, click