Career Management Center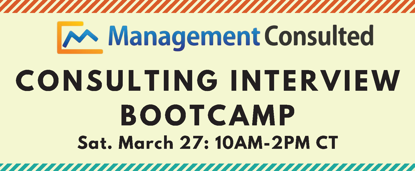 Spring 2021 Management Consulted Consulting Boot Camp
Saturday, 3/27/21, 10:00 – 2:00 PM CT
Virtual Event: Webinar Link will be provided upon registration
Registration Fee: $50
Registration Closes: 3/26/21 @ 11:59PM CT
EVENT DESCRIPTION
Cox CMC is excited to welcome Management Consulted to "campus"! If you haven't heard, Management Consulted is the world's leading website on consulting jobs and prep.
MC will lead a Consulting Bootcamp via Zoom from 10AM-2PM CST on Sat. March 27. Space is limited!
"This was an excellent program with an even better instructor. Well worth my time." – HBS 2nd year
This session will give you a leg up in the consulting application and interview prep process. We'll cover:
• Networking for Consulting
• The Resume Changes to Make
• Case Interview Anatomy
• And more!
ABOUT THE INSTRUCTOR:
Jenny Rae Le Roux holds a BA (Honors) from the University of Virginia and MBA from Columbia Business School. She joined Bain after traveling around the world, writing a book, working on financial public policy in South Africa and sailing across the Atlantic Ocean. At Bain, Jenny Rae worked on strategy, private equity, and operations projects in 10 different industries.
Since leaving Bain to co-found 2 tech companies, she has built a family office focused on small media companies and real estate. Jenny Rae lives with her family on a working ranch in Northern California.
Jenny Rae is the Managing Director of Management Consulted, the world's premier consulting prep site with over 4M readers, an active podcast (Strategy Simplified), a popular YouTube channel, and over 70 partner schools. Jenny Rae conducts over 200 training sessions a year; she enjoys her work immensely and brings herself fully to engage each program's participants in unique, fresh ways.
ABOUT MANAGEMENT CONSULTED:
Management Consulted is the world's leading resource on all things consulting, with a focus on case interviews and consulting skill-building. Management Consulted works with 70+ universities every year on consulting prep, including HBS, Columbia Business School, Wharton, London Business School, and more.