APIL
Welcome to the SMU Association for Public Interest Law eStore!
For more information on us and our mission click here.
The 14th Annual APIL Auction
Please pick the amount of your donation or enter your own amount to be donated. $3,000 funds a full stipend for one student to volunteer with a public service organization over the summer. Every dollar of community support helps us progress toward our goal of awarding 30 stipends for the 2021 summer. We thank you for your generosity in supporting students at SMU pursuing their public interest goals.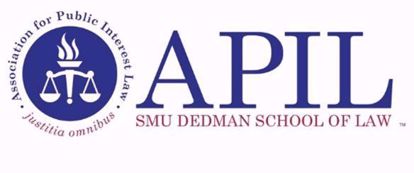 The 14th Annual APIL Auction
Please enter the payment amount indicated on your APIL Auction Statement. After payment has been made, a member of the APIL officer team will contact you by May 1st to arrange item pickup or delivery. Thank you for your support of APIL!